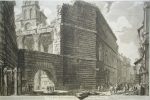 Veduta degli avanzi del Foro Nerva. Grabado en plancha de cobre de Giovanni Battista Piranesi, 1757. Procede de la obra, Vedute di Roma, estado II of VII. Impreso sobre «laid paper» con marca de agua, Fleur-de-Lys en un circulo. En muy buen estado de conservación.
El grabado esta destacado por Arthur Hind en su libro sobre Piranesi por su calidad: «The Forum of Augustus is one of his most powerful renderings of a foreground mass of masonry, dark even in its earliest impressions and almost exagerated in its blackness in the rebitten state.»
Referencia: Número 42, Arhur Hind, Giovani Battista Piranesi. A critical Study with a list of his Works and Detailed Catalogues of his Prisons and the Views of Rome. London, 1922.
Tamaño de la plancha 41 x 62 cm. Hoja 53 x 73 cm. 
Precio Vendido
Ref: 301.38
Solicitar información