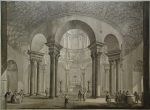 Veduta Interna del Sepolcro di  S. Costanza, Fabbricato da Constantino Magno… Grabado en plancha de cobre de Giovanni Battista Piranesi, 1756. Procede de la obra, Vedute di Roma, estado III of VI. Impreso sobre «laid paper» con marca de agua, Fleur-de-Lys en un circulo. En muy buen estado de conservación.
Referencia: Número 37, Arhur Hind, Giovani Battista Piranesi. A critical Study with a list of his Works and Detailed Catalogues of his Prisons and the Views of Rome. London, 1922.
Tamaño de la plancha 40,5 x 54,5 cm. Hoja 53 x 73 cm. 
Precio 700 €
Ref: 301.40
Solicitar información